Protect Your Rear Facing Baby From Rear-Window Sun & Glare ✔
The Sunshine Kids Sun Stop Is A Car Window Shade That Safeguards Your Baby From Sun And Glare. It's An Ideal Travel ...
£7.04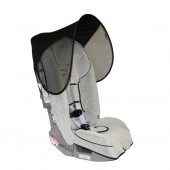 Protect Your Baby From Sun & Glare ✔ Can Be Used With Car Seat & Pushchair ✔
Dual-fabric construction blocks the sun from above and behind while the solar mesh sides filter the suns glare witho ...
£9.00
Universal ✔ Sun Protection ✔ Easy Fix ✔
The Roller Shade by Chicco helps protect your child from direct sunlight when out and about in the car. With its li ...
£2.45
Universal ✔ Sun Protection (Factor 30) ✔ Easy Fix ✔
These high-quality roller blinds from Hauck effectively protect from direct sunlight and thus from a rapid heating o ...
£7.00
Fits Group 0+ Car Seats ✔ Lightweight ✔ Compact ✔ Sneak A Peek Zip ✔
The Deluxe Car Seat Snooze Shade by SnoozeShade is the perfect accessory when out and about with your little one. Wi ...
£27.00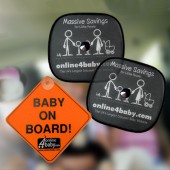 2 x Sun Shades ✔ Baby On Board Sign ✔
The 4Baby In Car Travel Pack is designed to keep Baby comfortable and safe whilst travelling in the car. The pack ...
£15.00
Fits Car Seat & Strollers ✔ Breathable Mesh Fabric ✔ UV Protection ✔
Vastly improving the chances of baby going down peacefully for a nap whilst on-the-go, the Stroll & Go Sleep Sha ...
£5.35
Order for Express Friday delivery
Order by 4pm and receive your Item Next Working day
See Exceptions
Choose by
Choose by Predominant Colour:
Choose by Price
Choose by Brand
Choose by Package