Keep Drinks Hot or Cold ✔ Double Layer Construction Insulates For Up To 3 Hrs ✔
Lil' Snugger stretches and contours to any shape bottle or trainer cup for a snug fit. 2 layers of stretch-neopre ...
£5.96
36 Bags Total ✔ Lightly Scented ✔ Large 17" Bags ✔
Sunshine Kids Bag It is the conveniently sized dispenser with 12 high density rubbish bags and a huge variety of use ...
£3.95
Protect Your Rear Facing Baby From Rear-Window Sun & Glare ✔
The Sunshine Kids Sun Stop Is A Car Window Shade That Safeguards Your Baby From Sun And Glare. It's An Ideal Travel ...
£7.04
Lightweight ✔ Compact Fold ✔ Draw Strings to Close ✔
Brand New, Ex-Display
This collapsible storage bin pops open when needed for those extra toys or for trash. The drawstring top keeps items ...
£4.04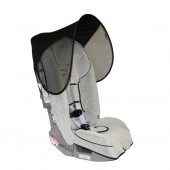 Protect Your Baby From Sun & Glare ✔ Can Be Used With Car Seat & Pushchair ✔
Dual-fabric construction blocks the sun from above and behind while the solar mesh sides filter the suns glare witho ...
£9.00
Designed To Fit Snugly ✔ Allows Optimal Air Flow ✔
Enjoy those sunny days outside! With the mosquito net for the RECARO Young Profi Plus and Recaro Privia you don't ne ...
£11.05
Lightweight ✔ Holds 2 Bottles ✔ Waterproof ✔
Sunshine Kids Cool-It 2 is the perfect cooler for kids on the go. Double-thick insulation keeps bottles cooler longe ...
£3.04
Protects From Pets ✔ Breathable Mesh ✔
Brand New, Ex-Display Model
Clippasafe Cat Net for Cots helps protect your little one while they sleep at night. The net easily fits over the to ...
£12.05
Order for Express Friday delivery
Order by 4pm and receive your Item Next Working day
See Exceptions
Choose by