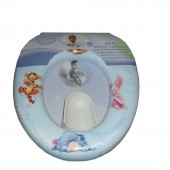 Potty Training Seat ✔ Non Slip ✔ Easy To Use ✔
This Disney Soft Potty Training Seat is easy to use and adapts to fit most toilet seats. Featuring an array of Disne ...
£26.00
Makes Potty Training Fun ✔
Tippitoes has long been known for its range of bath and toilet products manufactured in strong sturdy plastics. Whil ...
£10.00
Order for Express Tuesday delivery
Order by 4pm and receive your Item Next Working day
See Exceptions
Choose by